0
Can donors pay by check?
Learn how to manage and reconcile check payments in RallyUp.
How to enable check payments
To accept check payments for donations made to your campaign, you must first enable this option in your organization settings. Thereafter, you'll be able to allow checks as a payment option on a campaign-by-campaign basis in your campaign setup menu. Checks can be added as a payment option on all campaign types except auctions.
Here's how to enable it in your Organization Settings:
Click on Payment Processing in the left menu.
Scroll down to the card titled, "Can donors make donations by check?"
Check the box, then click SAVE at the bottom of the page to apply your changes.
Once you've completed step 3, you can then enable the check payment option in campaign setup for any fundraiser that you create.
How to enable check payments in Campaign Setup:
Click on my campaigns in the left menu.
If you have chosen list view, click on the title of the campaign. If you have chosen grid view, click on the campaign image.
Click Edit Campaign.*
Click Advanced Options in the timeline at the top and then click Checkout Options.
Find the card titled, "What payment methods do you want to accept?"
Select the box for Check.
Add your check delivery instructions under the heading, "Where should donors mail checks?"
Click SAVE at the bottom of the page to apply your changes.
These check delivery instructions will display on your donors' receipts when they pay by check. This will ensure that they know where to mail their check payment so that you can reconcile it when you receive it.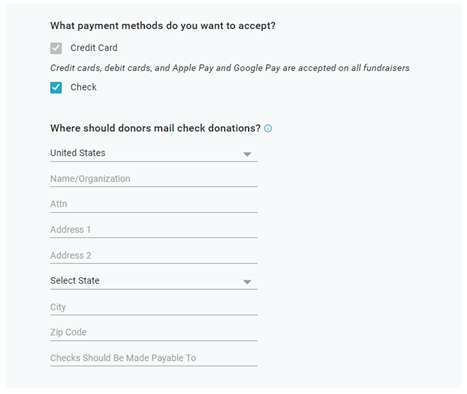 How check payments work
Your donor chooses "Check" as their desired payment method in checkout
They'll see instructions on their receipt for where to mail the check (based on the information you entered when setting up your fundraiser)
Once you receive the check, you'll reconcile it in RallyUp by marking it as "Received"
Good to know
For raffles and sweepstakes, donors won't be issued their entry numbers until you mark their payment as "received" on the manage check donations page in your campaign management menu.
Check payments cannot be used on auction campaigns.
The amount raised will update after you mark check payments as "received." Check payments won't be included in your amount raised until you do this.